Music of Thailand's ethnic cultures
Women of the Golden Triangle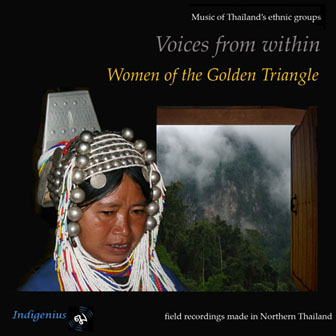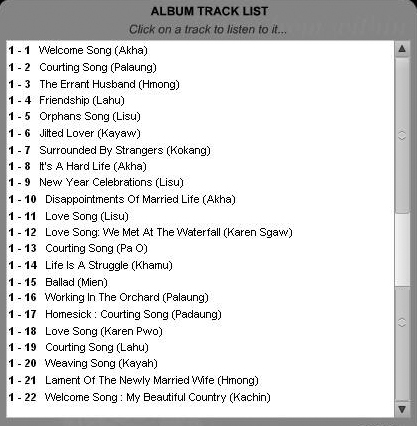 Voices from within
Women of the Golden Triangle
"When we sing, what is inside comes out" Lisu woman quoted in Otome Klein Hutheesing "Emerging Sexual Inequality Among the Lisu of Northern Thailand"
The life of women in hill tribe communities has never been easy. As well as working in the fields and raising pigs or chicken, the women tend to the sick, look after the household and the needs of an often demanding and wayward husband. Perhaps their most important contribution to the societies is the care of children as the mother child contact was the way in which so much of the traditional knowledge and values of the community was handed down from one generation to another.
Most musical instruments were the domain of the men but women had a free rein when it came to song. Singing was the only way in which emotions and themes which custom demanded should remain private could be openly expressed, By singing the women unburden themselves of the cares and troubles of their lives. One Lisu woman, when asked why so many songs were sad, replied "What's the point of singing if you are happy?" Although not all the songs in this collection are sad, most are expressions of the feelings and concerns that women from all societies share.
This collection, covering fourteen ethnic groups, highlights the rich variety in musical styles of the different tribes. The songs also illustrate some of the many themes that recur. Themes often deal with personal problems such as love unrequited or which cannot be declared, the sad life of an orphan, not having enough money for food ('I wish I could turn the rain and the sun into money'), asking for help in fields or in preparing a ceremony, advice on getting married, problems of a daughter in law.
They express feelings such as missing family or loved ones, loneliness when abandoned by spouse, disappointment after marriage, being apprehensive before getting married, sorrow at having to move to another village. One young Padaung woman confined to a tourist village, sang "wanting to leave this place is like wanting to touch a star."
Hosting provided by www.10pdm.com the UK's leading digital media facility